WORTHY INVESTMENT LEARNING CURVE
Conservationists, consultants and growers find new opportunities for sound farming practices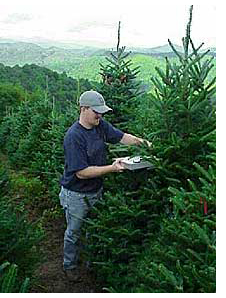 Christmas trees are big business in North Carolina's Allegheny, Ashe, Avery and Watauga Counties. In fact, Christmas tree production covers an estimated 25,000 acres in the area and produces the largest crop in this part of the state. By sheer volume, these farms have major economic and environmental impact in the region. And local government officials, conservationists and Christmas tree growers agree—investing in integrated pest management and conservation practices is in everyone's best interest.
In conjunction with the Center for Agricultural Partnerships (CAP) and North Carolina State University Cooperative Extension agents, growers are getting help using the Environmental Quality Incentives Program (EQIP). The program is administered by USDA Natural Resources Conservation Service (NRCS) to support farmers' conservation efforts and environmentally friendly pest management practices.
"Everybody receiving help is just thrilled," said David Tucker, district conservationist for NRCS in Allegheny and Ashe Counties. "The biggest obstacles have been getting word out about EQIP and letting farmers know we're here to help them, not regulate them," he said. "Conservation has been practiced by farmers here for some time, but historically they've not received much economic benefit back from these practices. Where we can come in and help them fund conservation practices, it relieves financial pressure," he said. "Often they just need a little technical expertise and the money helps them do more."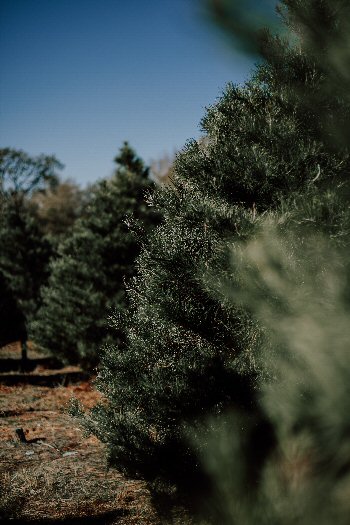 Evergreen Ridge farm near Banner Elk, N.C., has tapped into EQIP in several ways. The farm has received technical and financial assistance in constructing a specialized building on the farm designed to safely store and handle pesticides. Evergreen Ridge has stabilized its access roads and installed ground cover to reduce erosion and runoff into streams and other water resources. What's more, EQIP funding provides cost share for pest scouting that will help the farm target pesticide applications only where needed.
Evergreen Ridge owner Mike Pitman has been pleased with how NRCS has helped him tap into EQIP and technical expertise. "They've been a tremendous asset," he said. "Farm roads are the worst for erosion and sediment. You have to have access on these steep mountains, but if you don't have the money to put into your access roads and you get a lot of rain, you're in bad shape quick," he said. "With the technical and financial assistance we've received, our roads now drain well and we're preventing erosion," he said. "We're in a lot better shape now."
Tucker estimates that some access roads can erode up to 100 tons per year. "When you prepare these roads properly, you're keeping that sediment out of the streams, improving the fish habitat, water quality and soil quality," he said.
Doug Clawson, owner of Clawson's Choose-and-Cut farm in Boone, N.C., has also had positive results with EQIP cost-sharing on his access roads.
"The old roads had ruts a foot deep," said Clawson. "We were able to grade it down and put filter cloth on it, and then crushed stone, and this reduces runoff and erosion," he said. "I've been well-pleased and I would encourage everyone to see if they're eligible for these funds, and if so, use them."
Doug Hundley, a technician and director of the Avery County Integrated Pest Management (IPM) Program, is encouraging more Christmas tree growers to apply for EQIP to support scouting.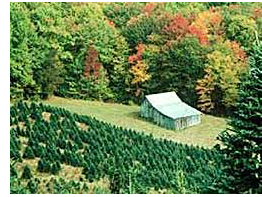 "The most important aspect of IPM is scouting," said Hundley, although he adds that farmers generally understand this but struggle for time to do it. "Farmers in all crops tend to believe in scouting, but they still have a hard time putting their own workers on it because there's so much to do," he said. "Hiring an outside scouting service works, and we're hoping EQIP will encourage more Christmas tree growers to do so."
The end result of practicing IPM and scouting is lower pest damage, reduced costs and lower environmental impact , Hundley said. "Scouting is just another green idea, and we're very glad it's been put into the list of EQIP-approved practices for Christmas trees," he said. "It fits well."