Putting the Farm Bill to Work in California
Yuba County grower sees tremendous value in EQIP incentives
by David Turner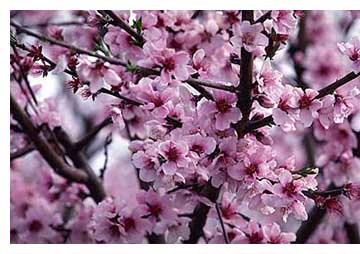 Mike Noland's family farm in Yuba County, Calif., grows cling peaches for Del Monte plus organic kiwi fruit, English Walnuts and plums. As a participant in the Environmental Quality Incentives Program (EQIP), Noland has seen firsthand the program's positive impact on his farm and the environment.
EQIP is administered through the National Resource Conservation Service (NRCS) and makes incentive payments to qualified growers who adopt environmentally friendly practices on their farms. Noland is one of an increasing number of the region's specialty crop growers beginning to participate in EQIP. Consequently, he is adopting new nutrient management, pest management and air quality practices.
"I think it's an excellent program," said Noland. "It allows farmers to participate in alternative practices we otherwise wouldn't be aware of or couldn't afford," he said. "And it benefits not only us, but also our neighbors."
In nutrient management, EQIP provides a per-acre incentive payment to Noland for using composts instead of chemical fertilizers. The idea is that the organic composts will provide needed nutrients for robust crops while replacing fertilizers that can have adverse effects on water quality. By tracking his new practices, Noland will be able to document the changes he has made as an EQIP-participating grower.
In the pest management realm, EQIP is providing incentive payments to Noland for using pheromones and other materials instead of insecticides. Unlike insecticides, the alternative substances have a soft impact on the environment.
Noland emphasized the importance of these practices for all growers because major pests such as the oriental fruit moth and coddling moth have developed resistance to some pesticides. "It basically takes pesticides out of the equation," he said. "We get better and longer-term control with the use of the pheromones. Using the same pesticides year in and year out creates more potential for resistance problems, while using pheromones lets us control the pest in a way that doesn't encourage resistance, and it has less or no impact on the environment."
Managing air quality is also critically important in the Northern Sacramento Valley, which has air quality problems due to its heavy auto emissions. EQIP employs cost-sharing to help perennial crop growers dispose of heavy prunings and brush without burning. Instead the growers chip the prunings and brush and incorporate them into soil where they decompose naturally. This has the added benefit of improving the quality of newer, sandy soils by adding organic matter. So aside from the benefits of cost-sharing, growers enhance their soil. "Without a doubt, I consider that very much of an incentive," said Noland.
A number of growers learned of EQIP at a cling peach growers' meeting in Yuba City organized by Jeanine Hasey, a University of California Agricultural Extension advisor. When Hasey discussed the possibilities of being involved with EQIP, it piqued Noland's interest immediately.
He also attended a meeting Del Monte Foods coordinated for area growers. The idea of EQIP and its cost sharing incentives was well received at the event by Noland and many of his colleagues.
"If it wasn't for EQIP and meetings like these, growers might not be introduced to and encouraged to adopt these practices," he said. "We need this kind of information and support."