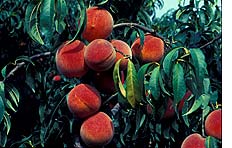 Georgia has an estimated 17,109 acres of bearing peaches typically ranking third nationally in production of fresh fruit. While peach growers have not historically participated in federal conservation programs such as the Environmental Quality Incentives Program (EQIP), a number of practices are available for use in peach orchards that have significant resource benefits. Of particular importance are the pest management practices that reduce the potential for degradation of surface and ground water from pesticide use.
For several years, peach growers in Georgia and South Carolina have been in the midst of significant changes to their production system. Among the more challenging modifications have been changes such as new pest management practices that provide environmental benefits. In cooperation with the University of Georgia, the Georgia Peach Council and the Georgia Natural Resources Conservation Service, new components were added to EQIP that have included the conversion of existing traveling-gun irrigation systems in peaches to under-tree, micro-sprinkler systems and, and most recently, the use of reduced risk pesticides and pheromone mediated mating disruption.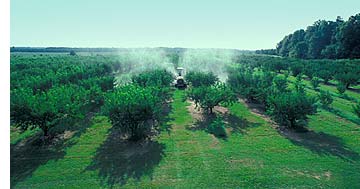 Use of those reduced risk materials tends to be significantly more complex and expensive than existing conventional materials. Consequently, the environmental benefits have not been realized because of these disincentives for their use. By creating incentives through EQIP, growers will be able to overcome the initial hurdles to adoption. As with mating disruption, use of the reduced risk materials will produce long-term benefits in peach production by minimizing resource impacts and creating more diverse and stable ecosystems which reduces the incidence of damaging secondary pests such as scale and mites.