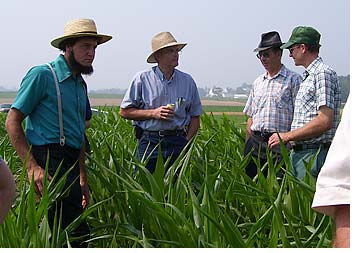 The methodology that CAP pioneered for organizing projects, documented in "Working from the Ground Up", is being used to increase the capacity of agricultural communities to protect the natural resources in the Chesapeake Bay. Working on behalf of the Chesapeake Bay Funders Network (CBFN)and in cooperation with the University of University of Maryland's Center for Environmental Sciences, CAP has and has worked with CBFN to develop extensive Guidance for identifying organizing and supporting large scale field projects. The Chesapeake Bay region projects include:
Adaptive Livestock Exclusion Project (PDF - 14KB)


In Virginia's Shenandoah Valley conservationists and farmers are engaged in designing site specific solutions through a "flexible fencing and grazing management" pilot project, designed to keep animals out of streambeds. Additional information can be found in the summary of the

Downstream Project (PDF - 45KB).





No-Till Farmer-to-Farmer Mentoring, Lebanon County (PDF - 116KB)


This, again, is a first in the state of Pennsylvania program. It expands technical assistance through the peer to peer aspect of farmers learning from farmers. A no-till cropping system is a cost-effective way to reduce soil erosion, decrease labor and fuel costs, retain carbon and nitrogen, and improve water quality. Pioneering efforts in Pennsylvania to utilize expert farmers to fill the gap in government technical assistance programs is generating valuable "lessons learned" that feed the learning curve of the new CBFN Maryland Grazers Network project as they engage experienced rotational grazers to advise new farmers.


Accomplishments:

34 farms – 13 farmer advisors, 21 new farmers
3,800 new acres of no-till conservation adopted representing 44% of all new no till acreage within 7 counties; mentor-assisted acreage 5 times higher than the county with the next highest no till acreage; 53% of new no-till acres started by farmers new to the practice.