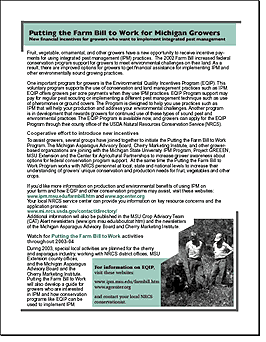 The Center for Agricultural Partnerships (CAP) is working with the Cherry Marketing Institute, the Michigan Asparagus Advisory Board, the Michigan State University IPM Program and Gerber Foods to help growers expand their use of IPM through EQIP. The project is building on the work started under the 1996 Farm Bill by district conservationists and growers in west central Michigan counties where asparagus and cherries are grown extensively.
The Michigan project is increasing growers' awareness of EQIP opportunities (see Information Piece below) and convening a group of specialists to develop protocols for pest management practices. This fall and winter the project will conduct a concerted effort to provide growers with the knowledge necessary to use EQIP in the 2004 growing season.
For more information on the project please see the Michigan web site at: http://ipm.msu.edu/farmbill.htm. Or view the accompanying PDF file (approx 400K).
To read about the experiences of two Michigan growers who have used EQIP on their farms, please visit: http://www.ipm.msu.edu/farmbill/growers.htm