Washington State Tree Fruit IPM Project (1997-2001)
Integrated Pest Management for Washington Pears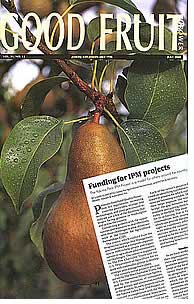 The goal of the three-year Washington Pear Integrated Pest Management (IPM) Project was to promote shifts to a more environmentally stable and economically viable pear pest management system in Washington State. The project addresses regulatory concerns of the Food Quality Protection Act and the changing biology of target pear pests (e.g. codling moth, mites, pear psylla, and leafrollers). A key objective was to increase the use of IPM systems and reduce the use of organophosphates (OPs) and improve resistance management.
To reduce OPs, growers used pheromone-based mating disruption for the codling moth, a key pest. This also increased the abundance of natural enemies, which helped control pear psylla, the other major insect pest in pears. Pear IPM Project participants reduced organophosphate use by 30 percent on 640 acres, 2000+ acres, and approximately 3,500 acres in years one, two, and three, respectively. During the three years of the project, net pest control cost savings for Pear IPM Project growers were ($28.84), $78.83 and $66.13 per acre. Less money was spent on pesticides for insect and mite control in Pear IPM Project cooperator orchards with no increase in pest damage.
In addition to measuring pesticide application amounts, the project also measured pesticide residues on the fruit. On those fresh fruit samples that had detectable levels of pesticides (the vast majority had no detectable levels), the average residue level was four percent of the federal tolerance. Pesticide levels on the fruit and in the finished product were so low and the occurrence so infrequent that a correlation between pesticide residue and other orchard factors (pest management program, insect abundance, etc.) cannot be made.
CAP's PARTNERS
Del Monte Foods, Snokist Growers, Washington State Horticultural Association, crop consultants, Washington State University Cooperative Extension, USDA-Agricultural Research Service, and chemical suppliers.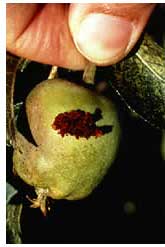 The project conducted in-field training for wide-scale use of insect pheromones for mating disruption, which reduced the need to apply insecticides. "Scouting schools" in English and in Spanish were used to train existing orchard employees to scout orchards for the IPM system. This project has created the means for the continued use of the IPM system through the publication of the "Orchard Pest Monitoring Guide for Pears" and an IPM Manual modeled on a similar publication developed in the Michigan Apple IPM Project. In addition, the curriculum used in the scouting schools is being adapted by local community colleges as part of their associates programs.
Through these steps the project has enabled pear growers to control insect pests, thereby further reducing the need to use insecticides, through increased populations of beneficial species. The project, recently completed, has made mating disruption a more common tactic in nearly 3,500 acres of Yakima district pear orchards, an increase of 468 percent in use of this practice in pears. Total insect control costs savings to growers has averaged $100/acre with effective control, quality, and yield and a reduction of more than 30 percent reliance on organophosphates.
The project led to a parallel, intensive pest management effort on winter pears in north central Washington, supported by CAP and EPA, that extended the "soft" system to the fresh pear industry in 1999 and 2000. In 2001 at the request of DelMonte Foods, CAP cooperated to continue field days for growers and funded the development of better field monitoring protocols and packing house methods for evaluating insect damage.
---