Midwestern Water Quality Project Minnesota (2000-2002)
Improve Water Quality in the Minnesota River Basin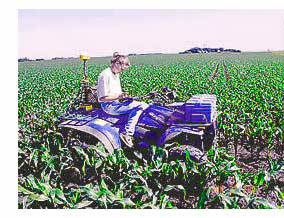 The Center for Agricultural Partnerships (CAP) has successfully completed the Midwestern Water Quality Project (MWQP) to implement an information intensive nitrogen management system on commercial acreage in the Mississippi River Basin. This project was supported by the Environmental Protection Agency, The McKnight Foundation, National Fish and Wildlife Foundation, Minnesota Corn Growers, and the Minnesota Soybean Growers Association, and the National Alliance of Independent Crop Consultants.
The water quality problems in the Mississippi River Basin and with hypoxia in the Gulf of Mexico have generated significant interest in changing farming practices. At the same time, finding effective ways for helping farmers change their farming practices has been somewhat elusive. Even though nitrogen management practices are relatively simple to implement, wide scale adoption has not been rapid. The Midwestern Water Quality Project was initiated to demonstrate the value of effective methods for designing and organizing watershed level efforts. Those methods can then be used in other watersheds to assist other farmers and be used at the agency level to guide programmatic efforts.
CAP used a methodology for designing and organizing the project that integrated three steps: 1) understanding farmers needs and the conditions in which changes in nitrogen management would take place; 2) designing and implementing the project to meet those needs and conditions in order to facilitate farmer adoption; and 3) documenting results for farmers, the farming community and policy makers.
Field Results
It was fortuitous that weather was cooperative and yields were outstanding in 2002. It is not uncommon for extra nitrogen to be applied every year in case it turns into a good year with high yields. The perception is that high yields require high nitrogen rates and thus it is important to have adequate nitrogen available, in case maximum potentials are reached. However, growers had high yields in 2002 even with very low nitrogen rates. The average yield from Minnesota farms was 175 bushels per acre, and on the 10 Iowa farms, yields were well over 200 bushels per acre. Yields even averaged 137 bushels in the plots with NO nitrogen application.
The Economic Optimum Nitrogen Rates were calculated using a value of $2.25 for a bushel of corn, and 17 cents per pound of nitrogen. After calculating the EONR on every farm, and then averaging those results, Dr. David Mulla, University of Minnesota researcher, determined that the average EONR in Minnesota for the 2002 season was 100 lb/acre of nitrogen, and 114 lb/acre N in Iowa. On average the maximum profit occurred with a nitrogen application of 105 lb/acre of N. Adding more than 120 lb/acre N fertilizer did not typically increase yields or profit.
Communications
On March 11, 2003 a wrap-up, was held in Mankato, MN in cooperation with the Minnesota Corn Growers Association and the Minnesota Soybean Growers Association. In attendance were farmers, crop consultants, Cooperative Extension staff and representatives from state government. Paul Johnson, Iowa farmer and former Chief of the Natural Resources Conservation Service, spoke to the group emphasizing the need for having good soil in order to have good water quality. Presentations of project results were made by Maggie Jones, John Rodecap, a grower panel and Dr. Dave Mulla. (Dr. Mulla's presentation is available at: https://www.wrc.umn.edu/projects/ag-impacts
Grower Comments: "To be able to touch it, feel it, and try it on our farm was a great thing and a step in the right direction".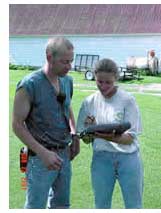 "By participating in the project I feel more comfortable about lowering rates and that at those rates I can still produce a good yield. In previous years, our nitrogen management decisions were made on what we've applied in the past or what my Dad did, but I wanted to find out for myself what the best rate is because I was looking at lowering my cost of production and this gave me the opportunity to do just that."
Conclusions
Several factors were instrumental to the success of the project. Taking the time and effort to understand the needs and constraints on farmers, the influences on their decision-making and the nature of nitrogen management provided particularly valuable information for designing the project. Looking at nitrogen management as an innovation, the adoption of which is dependent on certain conditions, made it possible to structure project activities to facilitate use of the reduced nitrogen rates. In particular, conducting the project as an implementation project that relied on substantive documentation rather than using an experimentally designed effort, allowed growers to directly experience the commercial impacts in their own fields
For more information on the project, please contact
Maggie Jones

Project Manager
Please view University of MN's website at: