[New England Vegetable and Berry Growers Association]
New England Corn Growers Save Sprays By Watching Cycles
Project uses parasitic wasps that move from field-to-field, controlling European corn borer
The New England Vegetable and Berry Growers Association intended to increase the adoption of a field scouting program in the use of biopesticides and reduced-risk pesticides among New England sweet corn growers. The project had 2 objectives: 1. Implement and support a scouting program with 34 sweet corn growers in ME, MA, NH, CT; and 2. Coordinate use of reduced risk and biopesticides with the scouting program for participating growers.
Richard Bonanno, Ph.D., past president of the association and coordinator of the project, worked with extension specialists and agents in four states who help growers combat the European corn borer and fall armyworm. The crux of the program was to monitor for pest populations and cycles, spray only when necessary, and to use reduced risk materials when spraying was a must.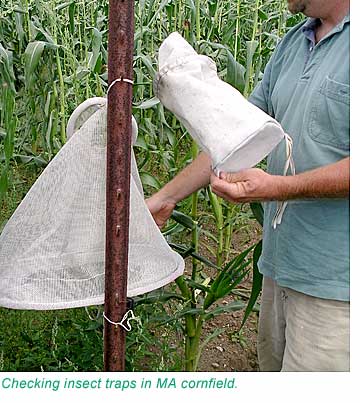 The good news for corn producers is their growing cycles did not always coincide with pest emergence cycles, and field scouting helped to reveal such cycles. "Continuing from early July to about mid-October, you might harvest 15 different plantings," said Bonanno. "You seed the corn every few days from mid April through June," he said. "If you do a good job of monitoring, you may find that you have certain plantings that don't coincide with the emergence cycles of insects. By knowing what the population is doing, you may not have to spray and if you need to spray, you can try to pick softer products."
All participating growers felt that on-farm scouting was the preferred method of deciding when to spray. This was preferred over relying on trap counts published in Extension newsletters, although that worked well in the past. About 60% of growers hired a scout and the remainder scouted their own fields. Growers also said that on-farm scouting resulted in fewer sprays needed, better overall control, less ear damage, they saved money and made more profit, and that they had fewer machinery repairs and maintenance due to less spraying. In general growers who scouted on-farm reduced the overall number of sprays per acre from 5 to either 3 or 4 on average. Earlier in the season, when pressure was lower, growers consistently saved 2 sprays per acre.
The greatest savings were on farms of direct participants (675 acres of sweet corn) in the four-state region. In the early part of the season, these growers saved 2 insecticide applications per acre ($18/acre X 675 acres = $12,150). The amount of pesticide use reduction was 506 pounds of the higher risk materials. This information was also passed to other growers (2818 acres) who saved 1 spray ($50,724). The additional amount of high-risk pesticide pounds reduced was 1057 pounds. Overall reduction in high-risk pesticides was 1563 pounds.
Another control used in the New England project was the trichogramma wasp, a very small insect that parasitizes European corn borer eggs. "When they were done in the first field they moved to two or three other fields and did a good job controlling the borer there," he said. Trichogramma wasps were able to move by themselves to later plantings and provide control of this pest, saving sprays. Control with these wasps was excellent in the later plantings.
Overall:
A total of 34 growers participated (more than anticipated)
100 Acres were sprayed with indoxacarb, 80 with spinosad, and 34 were treated with trichogramma
675 new acres were scouted.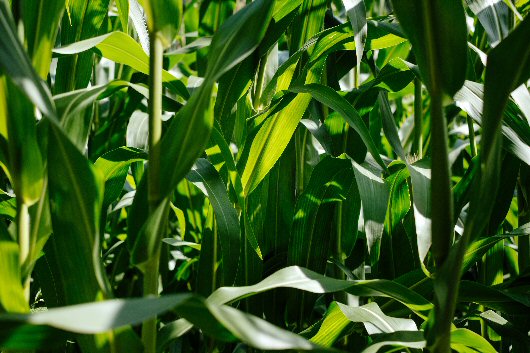 All scouting information generated on these 34 farms became part of the weekly pest messages published by the various state Extension services. This information reaches growers representing 80% of the sweet corn acreage. Overall, at least 20% of the acreage is treated based on the results published in these weekly messages.
Use of biopesticides (trichogramma) and reduced-risk pesticides (spinosad, indoxacarb) is considered to be safer for the applicator. In some cases, the efficacy of the reduced-risk product may be better than the standard. In addition, scouting data generated on farm will provide growers with the best data with which to make a decision to spray. Adoption of these technologies will increase applicator and environmental safety, improve efficacy at times, and increase yield and profitability.
This type of work will continue within New England. Research and Extension work in sweet corn has been ongoing since the 1970's. New pesticide products including reduced-risk pesticides, biopesticides, scouting techniques, and pest changes provide a continuous opportunity and need to improve these practices. Dollars likely to be expended on these efforts in 2006 will include Federal and State dollars, private donations, US EPA Strategic Ag Initiative dollars, and Industry support dollars. Specific efforts will involve, increasing the numbers of growers who scout themselves, advocating for the increased use of biopesticides, research work on the timing, mobility, and overwintering capacity of trichogramma, and efforts to improve the email distribution of pest trapping data.
The following sites contain current and archived newsletters and pest management messages:

CLICK HERE for a copy of Working from the Ground Up (PDF -992K).
---