EXAMPLES:
---
CONSERVATION PROGRAMS
LOSING GROUND:
Specialty
Farmers and
Special
Conservation
Programs

Putting The Farm Bill To Work > Pasture Raised Hogs
Pasture Raised Hogs and Resource Conservation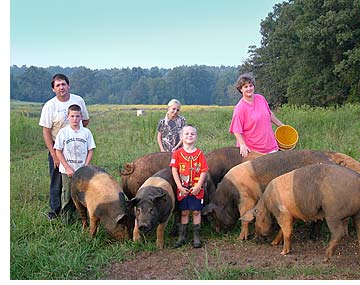 The establishment of pasture raised hog operations, in addition to providing market opportunities for small farmers, has also created significant challenges for producers in conserving and preventing degradation of soil and water resources. These problems jeopardize the sustainability of the farm operation may result in substantial additional costs to the farmers to repair environmental damage, leave the operations subject to regulatory enforcement and, of course, harm the natural resources on which these farms depend for their livelihood. Federal conservation programs, such as the Environmental Quality Incentives Program (EQIP), administered by USDA's Natural Resources Conservation Service (NRCS), are available to provide financial assistance to producers in dealing with those problems. The financial and technical assistance from EQIP can be especially valuable to small and limited resource farmers for whom the costs of conservation practices are a significant obstacle. In the case of pasture raised hog operations the ability to resolve natural resource problems while establishing an economically viable enterprise is a critical factor in success.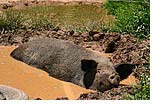 CAP is involved with one project with the North Carolina State University's Center for Environmental Farming Systems and another complementary but separate project with North Carolina A&T University that will help to improve the ability to conserve resources and take advantage of market opportunities for pasture raised hogs.