Putting The Farm Bill To Work > Organic Grain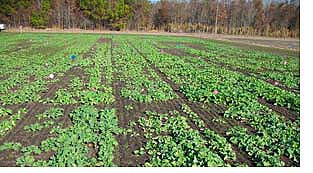 Organic Grain
The demand for organic grain in North Carolina has far outpaced the supply produced in the state. A recent project organized by North Carolina State University, with support from the Golden Leaf Foundation, has been aimed at increasing the ability of North Carolina farmers to make the transition to organic grain and soybean production. Click here for more information.
An integral part of the project, in which CAP has been involved, has been adapting resource conservation opportunities to organic grain farming.
A first step in that effort was to work with the North Carolina Natural Resources Conservation Service office to develop a Production Guide.
In the second year, the project worked with NRCS to establish a payment for adoption of practices that increase resource conservation for farmers in organic transition and for those who have already made the transition.