EXAMPLES:
---
CONSERVATION PROGRAMS
LOSING GROUND:
Specialty
Farmers and
Special
Conservation
Programs

Putting The Farm Bill To Work > Limited Resource & Minority Farmers
Making the Farm Bill Work for Limited Resource & Minority Farmers in North Carolina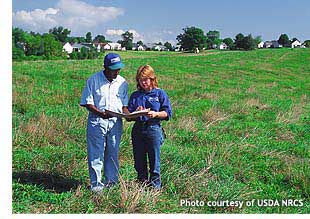 We have learned that it is critical to listen to farmers about their most important needs in designing projects that are effective in helping them take advantage of financial and technical assistance from federal conservation programs. In the case of minority and limited resource farmers in North Carolina, we discovered through a project we completed in cooperation with Black Family Land Trust, NC A&T, NC Department of Agriculture and NC Natural Resources Conservation Service (NRCS) that farmers lack the most basic prerequisites, such as conservation plans, that are a basic first step in resource conservation. As a result, we have developed this project to help farmers learn how to develop conservation plans for their farms and, in the process, take advantage of assistance that will help them make environmental improvements, especially in the area of pasture based livestock production.
This project is intended to enable minority farmers in NC to gain access to assistance for conservation efforts on their farms. The project will involve small farmer cooperatives and supporting organizations in creating a means for minority farmers to work together in creating conservation plans, which are threshold requirements for participating in federal conservation programs. The project will employ 3 facilitated sessions to pilot test a user friendly method for developing plans that farmers can use on their farms. Their experiences will be documented in the preparation of a methodology for working with minority farmers that will be made available for use by other cooperatives, supporting organizations, NRCS, and conservation districts. The project will increase the equity of access to federal programs and fill a huge and critical gap in the services available to minority farmers for making economic and environmental improvements on their farms.