MINNSOY VOICE April, 2003
Water Quality and Nitrogen Addressed at Symposium
The Center for Agricultural Partnerships (CAP) recently held the Midwestern Water Quality Project Symposium in Mankato, focusing on nitrogen management in the Minnesota River Basin.
The Minnesota Soybean Growers Association (MSGA) is a partner in CAP, whose mission is to create programs that solve agricultural problems by helping farmers adopt more environmentally sound and profitable practices. CAP's programs improve the productivity and viability of farming operations, as well as the well being of farm communities. While building healthier ecosystems. reducing pesticide risk and improving the water quality in growing regions across the country.

Minnesota Commissioner of Agriculture Gene Hugoson, who is a farmer himself, was a speaker at the symposium in Mankato. He expressed the fact that nitrogen is necessary, but it must be managed.
"Nitrogen is like water. It is necessary, but too much water in one place at one time can he a problem," said Hugoson. ''This is a wake-up call for agriculture, and as farmers, it's something we have to pay attention to."
One of CAP's current projects is the Midwestern Water Quality Project. Started in 2000, the project uses collected field data to evaluate environmental, economic and agronomic results, which are in turn used to confirm the value of the practices and assess project impacts. By linking nitrogen management to key profitability decisions. CAP's approach offers a win-win opportunity for farmers.
Water quality and nitrogen management play a role in conservation, which is a priority issue of' MSGA and (the
Minnesota Soybean Research and Promotion Council.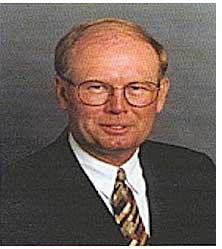 Gene Hugoson, Minnesota Commissioner of Agriculture, addressed a group of farmers on nitrogen management on March 11 in Mankato.