Hispanic orchardists learn importance of monitoring
Naná Simone has compiled a manual in English and Spanish describing common orchard pests and diseases and how to monitor them.
By Geraldine Warner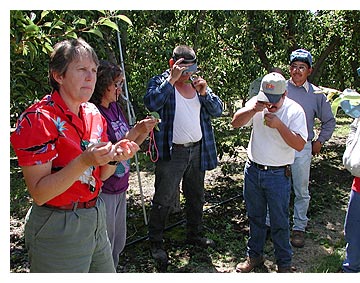 Working as an Integrated Pest Management consultant, Naná Simone recognized the need for a book in Spanish to help Hispanic orchardists and workers identify fruit pests and diseases.
Simone, who is based in Wenatchee, Washington, started collecting photographs and wrote a text, in English and Spanish, on her computer. She'd print out copies and give them away. "You can imagine how many ink cartridges you go through," she commented.
Two years ago, when she launched the Hispanic Orchardist IPM Program in Washington State, she knew she needed a way to produce the guide book in greater quantities. Leo Garcia, who teaches Hispanic orchard workers Wenatchee Valley College, was also interested in using the book in his classes.
Simone used part of her funding for the Hispanic Orchardist IPM program and a risk management grant of $6,000 from the U.S. Department of Agriculture to have 750 copies designed and printed. A stipulation of the USDA grant was that she had to give them away, not sell them.
Copies of the book, whose text is in Spanish, were soon snapped up, but the Center for Agricultural Partnerships has helped her make it available on the Internet. It can be downloaded free in either Spanish or English.
The text covers the 15 main pests encountered in Washington State orchards, and their natural enemies, as well as the most common fruit diseases (mildew, scab, fireblight, and bacterial canker). It is illustrated with 135 photographs of pests and damage.

Practical
While much of the information can be found in the book "Orchard Pest Management," which is in English, Simone places more emphasis on monitoring methods and introduces IPM from a practical standpoint.
In her Hispanic orchardist classes, she teaches her students how to use her book.
"We have such varying levels of education in our Latino workforce—anywhere from zero to post secondary—but I would say the average, at least in the growers I've worked with, has been about fifth grade. So they don't even know how to use a reference book," she said.
She explains what the table of contents and index are, and how to use them. She tells them about the common names and scientific names of insects, explains how an insect is structured, and discusses pest lifecycles and development. She also introduces them to the concept of degree-day models. She does not include insecticide recommendations in the book.
"To me, this is a great book for guys to have in their pick-up truck, on their dash board. If nothing else, they can be flipping through and looking at the photos and comparing them to what they see out in the field," she said. "I want this to be a book that's used out in the field the whole time. I hope that people's copies get very dirty."
She's found that when students in her Hispanic orchardist program receive recommendations for insecticides or fungicides from horticulturists, they might not know what the pest is, or what it looks like. With the book in hand, they can ask the horticulturists to show them a photo, or write the name down so they can look it up.
Hispanic orchardists
The Hispanic Orchardist IPM Program, which she launched in 2002, has been funded by a grant from the Environmental Protection Agency administered through the American Farmland Trust. Simone thinks she can stretch out the money to cover the 2005 season. She has also received a small grant this year from the Bullitt Foundation and an EPA environmental education grant.
She has two groups of Hispanic orchardists—one in Okanogan County and the other in Chelan and Douglas Counties. She defines "orchardist" as a person who owns or leases an orchard, but she doesn't turn orchard managers away.
Each group meets eight times during the growing season at participants' orchards. Simone, who speaks fluent Spanish, explains the pests and diseases that are of concern at the time of the meeting. She explains the need for systematic monitoring and helps them understand the relationship between the estimated pest population and the potential for injury. She also discusses control options, including cultural, conventional, and organic.
"I encourage them to ask a lot of questions and talk about their experiences—successes and failures—whether it be with mating disruption or new chemistries," she said.
After the discussion they take a walk in the orchard with hand lenses and beating trays to see what they can find.
In total, 57 growers or orchard managers attended the meetings last season. One of Simone's intentions was to enable them to build their network of contacts so they could share information about where to get products at the best price and other tips to help them stay in business.
Educational opportunities
Simone said she's been trying to build partnerships to bring more educational and training opportunities to Hispanic growers. For example, this spring she presented a four-hour class during which Tom Kunkel, a horticulturist with Stemilt Growers, Inc., covered rootstock selection, tree spacing, and pruning, while she covered pest management.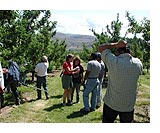 Most of her students speak English, but not well enough to follow a presentation at a regular grower meeting.
"When I see opportunities out there that I think they'd be interested in, I try to set that up," she said. "To have educational opportunities in your own language is just so powerful. These are people starting from nothing. They're trying to do 95 percent of the orchard work themselves. All they'll hire, outside of their own family, is people maybe for harvest, maybe for thinning. So it's difficult to be a go-getter about your education when you have such a load of work, plus you're not familiar with the system here—what's available, as well as where to go. That's why I've put quite a lot of effort into trying to link them up with other opportunities."
Informal
Her program offers an informal alternative to Wenatchee Valley College's Hispanic Orchard Employee Education program, which requires a commitment of 10-hours a week. That's more than some people who are running their own orchard can commit to, she said.
Simone encourages her students to phone her any time. A typical question might be, "Should I spray my entire orchard for codling moth or just the areas where trap counts and pest injury warrant it?"
"That's the kind of question that indicates they are grasping the need for monitoring and they're increasing their understanding of how to use the information they gather in their own monitoring," she said.
Some questions pertain to other aspects of fruit growing. Simone hopes to hire Francisco Sarmiento, head of Wenatchee Valley College's Latino agriculture education program, to teach irrigation management to a few Hispanic growers and set up model blocks to demonstrate the use of soil moisture sensors and soil moisture management to others.
She also would like to produce a spray guide in Spanish—perhaps a translation of Washington State University's annual "Crop Protection Guide for Tree Fruits in Washington"—and include practical information from consultants.
If she could clone herself she would like to extend the Hispanic orchardist IPM program to the Yakima Valley, she said, but running the program in north central Washington and doing her private IPM consulting work takes all her time.
"Manual de Monitoreo de Plagas, Enemigos Naturales y Enfermedades del Manzano, Peral y Cerezo" ("Orchard Monitoring Manual for Pests, Natural Enemies and Diseases of Apple, Pear and Cherry") can be downloaded in either English or Spanish. The Color Appendix is also available at www.agcenter.org/progpest.html.