CENTRAL WASHINGTON AG WORLD, April 1999
Grants Pay for Pear Pest Control
by Rick Steigmeyer, World Agriculture Writer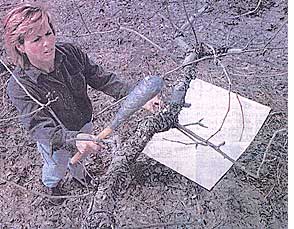 PESHASTIN - A new pest control program for Wenatchee Valley pear growers doesn't rule out the use of pesticides. But it will make it possible to take advantage of beneficial insects that could help growers greatly reduce use of the most toxic insecticides.
The Wenatchee Valley Pear IPM Project uses intensive monitoring to let growers know which pests and beneficial insects are present in the orchard at key times during the fruit growing season.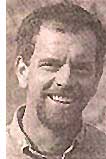 Private pest consultant Ted Alway has secured several grants to provide the service to growers without charge. About 15 grower on approximately 150 acres are involved in the first year of three-year program. The program is only for d'Anjou pear growers in the Wenatchee Valley.
Similar programs have started in the Yakima and Entiat valleys.
"We've had to turn down growers. That's been the single biggest surprise," said Alway, who previously headed up the Codling Moth Areawide Management Program (CAMP) for Washington State University Cooperative Extension. Before his involvement in that three-year program, Alway was a horticulturist for Wells and Wade Fruit Co. in Wenatchee.
Growers have heard of the success of similar integrated pest management (IPM) programs in British Columbia and elsewhere and have been enthusiastic about learning - more about biological pest control, he said.
British Columbia growers have pretty much done away with use of wide spectrum insecticides like Guthion, Alway said. Some soft chemicals are used. They control target pests like pear psylla, spider mites and mealybug, but don't harm beneficial insects that feed on psylla and other pests.
Most of the work is done by those beneficial insects, he said. The trick is learning how to grow clean fruit while cutting back on the heavy insecticides. It takes two or three years before beneficial insect populations build up to the point where they can effectively control the pests. B.C. pear growers currently spend about half as much per acre to control pests.
"This is not B.C.," Alway admitted. "Those growers had to go through a lot of pain to get where they're at. I don't know if we can make the transition as quickly. Most growers are not willing to give up three or four packs a bin while the program gets going."
Alway and his assistant, Betsy Valdez, won't advise growers not to use their pesticides. Pesticide use remains a key part of economical and effective pear pest management. But intensive monitoring will allow growers to make better choices about which insecticides to use and when and at what rate to apply them, he said.
There are several new soft pesticides now available, he said. Two products, Esteem and Dimilin, recently received Section 18 emergency use permits for this season.
The two insect growth regulators control pear psylla with minimal impact on psylla predators. Sulfur, oil and some other chemicals can be used effectively at certain times.
Kaolin clay, marketed in limited quantities this year under the brand name Surround, has been very effective on psylla, leafhoppers and even stinkbugs in trials, he said.
Mating disruption can be very helpful in orchards that have codling moth problems, he said, but is not necessary in most pear orchards. Imidan can be used to control the moth with limited disruption of psylla predators.
AgriMek has been the main control for several years for post bloom timings, he said.
It will kill natural enemies of pear psylla, but it has little residual effect on them. It can be used when psylla outbreaks get out of hand. Organic growers have had success using summer oils. B.C. growers wash their trees with a high volume spray of cheap laundry detergent.
Alway's plan is to develop a sustainable program that can he continued by the growers themselves or by commercial field men after the three-year pilot program.
"We can have a great program, but if it won't be continued, then it will have failed," he said.
Alway received about $33,000 in grants for the first year of the project from the Washington Tree Fruit Research Commission, the Program for Strategic Pest Management and the U.S. Environmental Protection Agency.
The Washington State Horticultural Association is donating accounting services.
The project is also supported by Washington State University researchers John Dunley, Jay Brunner and other scientists.