THE PEANUT FARMER, July 2001
Partnership to Fight Southern Corn Rootworm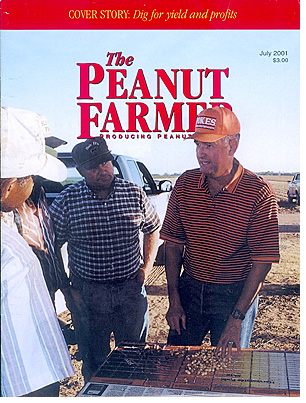 The Center for Agricultural Partnerships and North Carolina State University Cooperative Extension have formed a partnership to help peanut farmers decide when to treat for southern corn rootworm. Virginia Tech Cooperative Extension is collaborating on the 28-month project. Its aim is to demonstrate that the SCRW Risk Index (see page 10) can determine when cost of control is justified.
The project began during the winter, says Susan Pheasant of the Center, by asking farmers to identify what information they need in order to try a new practice, and what results they need in order to be convinced the new practice will work on their farms. Results will be used to design manageable, straightforward project activities to support participants. Because participants document and evaluate their own results, they can see firsthand the benefits of a new practice.
The next phase of this project involves on-farm tests and demonstrations. The on-farm part is designed to provide farmers with the opportunity to use the risk index on a portion of their peanut acreage; give participating farmers ready access to supporting educational, demonstration and field measurement activities; and evaluate the impacts of the education and demonstration effort in terms of changes in decision-making, adoption of the IPM risk index, and changes in insecticide use.
For more information or to participate in the project, contact Mike Linker, NCSU, at (919) 515-5644 or e-mail mike_linker@ncsu.edu; or call Ames Herbert, Tidewater AREC at (757) 657-6450, ext. 122, or e-mail Herhert@vt.edu; or contact Susan Pheasant, CAP, at e-mail spheasant@agcenterorg.