THE PEANUT FARMER, June/July 2003
Custom Pest Control
by Mike Linker
Predicting risk and treating only when needed just got a little easier for Virginia and Carolina producers.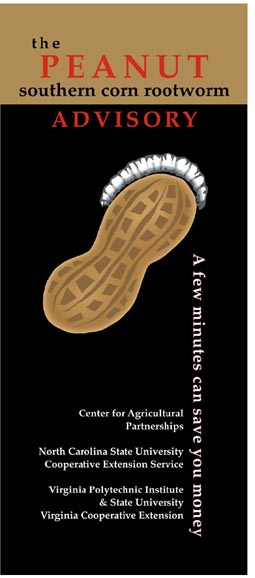 Another growing season means another season of pest-control decisions. Every year, these decisions become more important as the cost of inputs is balanced against an uncertain income. A total $1 million savings on pesticide is possible if enough North Carolina and Virginia peanut farmers use the revised Southern Corn Rootworm (SCR) Advisory. Farmers treat 10 times as many fields as they need to.
The Peanut SCR Advisory was developed as the Southern Corn Rootworm Risk Index by Allies Herbert of Virginia Tech University and Rick Brandenburg of North Carolina State University using studies of 436 fields in both states from 1989 through 2001. They found that an SCR treatment was actually necessary on only 17 percent of the tested acreage. Yet, recent surveys show that North Carolina and Virginia growers treat about 65 percent of the peanut acreage. This means that almost 50 percent of the pesticide treatments for SCR were not needed, and growers could have saved the cost of materials and applications. My estimate is that savings would be about $15 per acre and the advisory accurately predicts the need for treatment 98.5 percent of the time.
What's new with the advisory? We've expanded the risk ranges to include more borderline fields. Only 3 percent of growers we surveyed responded that they had a high risk of SCR problems. That's about the same number as have poorly drained fields. Southern corn rootworms thrive in moist soil. In dry years they are not much of a problem, but you have to treat preventively. If you start getting an inch or more of rain every week, like we did in 2001 more fields have that moist soil and the potential for damage is greater. Herbert and Sean Malone at the Virginia Tech Tidewater Agricultural Research & Extension Center in Suffolk, Va., reworked the numbers to make sure the original components were the correct ones. The new ranges protect more fields and reduce the risks.
Economic thresholds
To help make pest-control decisions, growers can use a variety of decision making systems based on the result of university research on pest biology and production economics. These systems may result in treatment recommendations based on numbers of pests (economic thresholds) the timing of pest development (for example, the leaf spot advisory) or identifying specific conditions that correlate with the risk of damage from certain pests (for example, the tomato spotted wilt risk index). Index systems that rate risk by specific conditions can be customized so that growers can adjust pest-control decisions on a field-by-field basis.
Most peanut farmers are probably accustomed to using an economic-threshold system for making decisions about herbicide or insecticide applications based on sampling to estimate the percentage of plants infested or pest numbers per area. With economic thresholds, scientists have developed formulas for estimating the point at which the cost of an investment in pesticide will give the grower a return benefit. This system works well for insects and weeds that can be easily monitored, that damage plants or cause yield loss in a predictable way, that cause injury over a period of time, and that can he controlled with a pesticide. However, the criteria listed cannot be met for some pests, and another means of deciding when treatment is justified is needed.
Advisories
Getting the Peanut Adviser
Up To Bat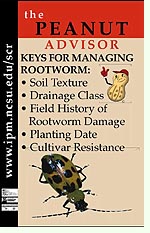 A perky peanut swinging a baseball bat and wearing a red cap decorates caps promoting the revised Peanut Southern Corn Rootworm Advisory. He's the Peanut Adviser (he's an expert on ballpark peanuts) and he's batting .985. He's helping bring the advisory to the attention of peanut growers, says Larry Elworth, of the North Carolina office of the Center for Agricultural Partnerships. Predictions based on the advisory recommend treatments that protect the crop from economic damage 98.5 percent of the time. Brochures with the revised score card for rating a field's risk are available from Extension agents in peanut-producing counties. Also available are pocket cards with photos of the kind of damage farmers might see at harvest to help distinguish rootworm damage from damage done by other soil insects, such as cutworms or wireworms. The Center www.agcenter.org is a nonprofit organization whose mission is to create programs that solve agricultural problems by helping farmers adopt more environmentally sound and profitable practices. (Virginia researchers are investigating why the Peanut Adviser's cap is red.) -Mary Anti Rood
Most peanut farmers probably have also become accustomed to using the spray advisory forecast system. Although the pathogen is not monitored directly, the advisory system monitors the weather and alerts growers to the need to schedule fungicide applications when temperature and humidity favor infection and development of leaf spot disease. This works for pathogens that are always present, but that become a risk only at predictable times.
For other kinds of pests that are not easily monitored and not evenly distributed, scientists have searched for conditions or combinations of factors that correlate with pest damage, rather than monitoring the pest directly. In the case of the SCR, entomologists have found that five factors account for variations in damage to different fields.
Assigning a numerical score to the choices for each factor results in a total score that predicts the risk for each field. The three or four choices within each factor are weighted by their relative contribution to the risk. Within the Planting Date factor, for example, the weighted choices are (1) before April 25. which adds 5 points: (2) between April 25 and May 15, which adds 10 points: and (3) after May 15 which adds 15 points. The other factors are Soil Texture, Drainage Class, Field History and Cultivar Resistance (see The Peanut Farmer, July 2001). Filling out the score card for each field takes less than one minute.

Although the field-risk index score system does not count the pests directly as does monitoring in an economic threshold system, the index score for the five SCR factors results in a prediction of damage that is as reliable as an economic threshold system. When growers used the field-risk index score to make decisions about SCR pesticide treatments, test fields were protected 98.5 percent of the time. In only 1.5 percent of the test fields did damage from following SCR treatment recommendations exceed predictions based on the risk score.
To further explain the value of using the index, the Center for Agricultural Partnerships has developed materials that describe the background and the data showing the reliability of the SCR risk-score system. Contact a North Carolina or Virginia Tech Extension staff member to get a copy of this information or log on to http://ipm.ncsu.edu/scr or http://www.ext.vt edu/pubs/entomology/444-351/444-351.html.
Mike Linker is IPM coordinator at N. C. State University