THE FARMER/DAKOTA FARMER, February 2002
How Much N? by Randy Frahm

Studies indicate that less fertilizer may be safer and more profitable in the in the Minnesota River Valley. First-year results showed 90 to 120 pounds of N per acre maximized yields.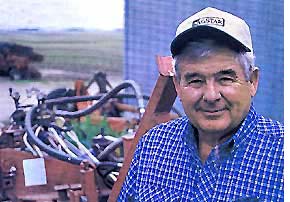 An ongoing study in the Minnesota River Valley hopes to find the "holy grail" of nitrogen (N) application:
How much N do you need to get the yields you want—without wasting money or sending unused N through ground and surface water?
Watonwan County farmer Bob Swanson farms a lot closer to Butterfield Creek than the Minnesota River, but he understands what he does on his land impacts the entire watershed.
"We're about 30 miles from the Minnesota River, but the water gets there."
Swanson joined seven other farmers in southcentral Minnesota to participate in the first year of a three-year study that originated at the Center for Agricultural Partnerships (CAP) in Asheville, N.C.
CAP was joined by other organizations such as the Minnesota Corn Growers Association and the University of Minnesota's Precision Agriculture Center in the project. Blue Earth County Consulting is providing management of the project for CAP.

The goal wasn't just to discover economical levels of the N application, but to share that information with other farmers in the project.
"It's the start of building a database," says study participant and Blue Earth County farmer Pat Duncanson.
That information can provide producers with the knowledge they need to save money. Duncanson says recent spikes in anhydrous prices (reaching more than 20 cents per pound) have forced farmers to rethink how they determined just how much N is going to be needed.
"In the past, it's been a lot cheaper to apply a little too much (N) to meet a crop's needs," he says.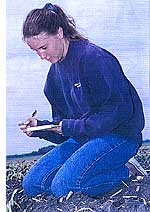 Karyn Wassman, a senior field technician with Blue Earth County Consulting and project manager, outlined the details and criteria for the study:
Plots were part of a corn-soybean rotation, with no manure applied for two falls prior to inclusion in the study.
Test plots are about 50 acres in size and have five different N rates (60, 90, 120, 150 and 180 pounds per acre) applied on approximately 10-acre strips.
The strips' width is dependent upon the width of the nitrogen applicator, width of the combine header and the length of the field so that each strip equals 10 acres.
Soil types and plot boundaries must be geo-referenced.
Fall nitrogen application will be anhydrous applied after soil temperature is below 50 degrees F. Spring application can include anhydrous or urea.
Yields measured with GPS-equipped monitor, with calibration verified by participating crop advisor.
Participant records will include average yields for the past 5 years, drainage history, N application history, and pesticide and herbicide application data.
Participants are paid $500 for the test plots. If participants allow a zero N-rate strip, they are paid $4250 to offset yield losses.
Wassman says the weird weather of the crop season, a wet spring followed by drought, didn't damage the results from the first year of the study.
"We had a few fields that were drought-stressed," she says, "but overall the fields yielded about the same."
Wassman says economic N application rates came in at between 90 and 120 pounds for "optimum economic yields" determined by each test plot's average yield history.
"An extra 30 pounds may have produced a couple extra bushels," Wassman says, "but it wouldn't necessarily be economically sound."