FARMER-STOCKMAN, August 1999
Super-Sized IPM by Mike Federman

Pear growers in the Yakima Valley Are running a three-year, extra-large IPM experiment for controlling insects.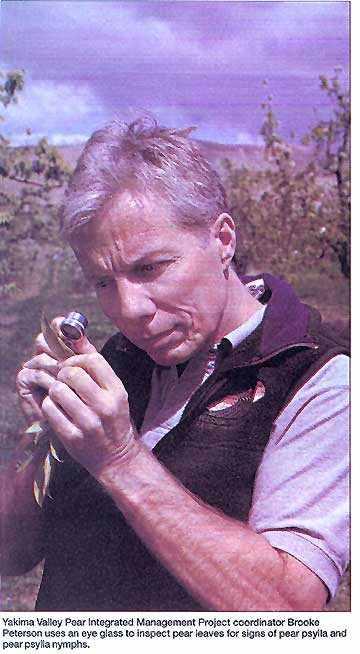 A mega-management plan, The Pear Integrated Pest Management Project is a three-year program funded by a $500,000 grant from the Environmental Protection Agency's (EPA ) Office of Pesticide Programs and the national Pew Charitable Trusts.
The two-fold purpose of the project is to establish a more effective means of insect control than conventional methods and to meet new regulatory challenges from the 1996 Food Quality Protection Act, passed by Congress to appease environmental groups concerned with potential health risks from certain pesticides.
"The Food Quality Protection Act is coming and there isn't going to be a choice," says Pear IPM Project coordinator Brooke Peterson, noting the reduction or elimination of organophosphates will force growers to find alternatives to conventional pest management.
"The EPA is going through a very rigorous assessment of these insecticides. Their use is being curtailed and, practically speaking, eliminated. We need to replace them with new technology."
As project coordinator, Peterson recruits pear growers to participate in the program and provides them with the resources of an extensive data base and educational instruction on IPM technology. The project is coordinated through the Washington State Horticultural Association in cooperation with Yakima Valley fruit warehouses Del Monte Foods and Snokist Growers. A technical advisory committee consists of pear industry representatives, producers, pest control advisors and USDA scientists.
"I spend a lot of time developing infrastructure for continuing IPM," Peterson says. "I give people the tools so IPM will survive past the life of this project. The whole objective is to keep the thing charging forward."
At the conclusion of the IPM project, Peterson hopes to have gained broad acceptance for IPM technology, which includes a "softer" spraying regime, using pest-specific sprays, and promotes sound orchard ecology' by increasing the survival rate of beneficial insects.
The Yakima Valley is the ideal location for a project of this scope since it is the largest pear-growing area in the country, says Peterson, a horticulturist who has managed a fruit cooperative in Wenatchee and was a Washington State University tree fruit extension agent for 15 years.
"If you look at the typical pear grower in the Yakima Valley, it's an apple grower with 10 or so acres of pears in addition to apples, he says.
The Pear IPM Project began in February, 1998 and by April of this year had more than 100 pear growers and about 1,500 acres of pear orchards under the program umbrella. The three-year goal, according to Peterson, is to get 4,500 acres nearly half of the total 10,000 acres of pear orchards in the Yakima Valley - involved in integrated pest management.
"That's ambitious," Peterson says. "When we first started this project, frankly, people were real skeptical. Last year was a very difficult year for controlling codling moth and pear psylla. But the bottom line is the project worked very well."
The conventional method of controlling codling moth, whose larva burrows into apples and pears, is to spray Guthion, an organophosphate compound referred to as a broad-spectrum insecticide. During growing season, an orchardist can expect to spray three or four times to kill new generations of codling moth. In the process, Guthion also destroys populations of predacious insects that keep parasitic species in check.
With no predators, pear psylla thrives. The pear-exclusive parasite damages crop load by feeding on leaves and secreting a honeydew—a sticky digestive waste—that attracts a sooty mold that can blemish fruit.
To combat pear psylla, growers use yet another spray application. Unfortunately, pear psylla is an extremely hearty insect with built-in survival mechanisms.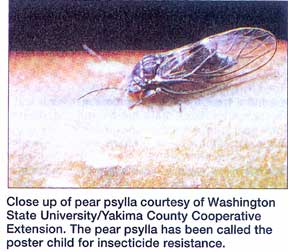 "Pear psylla could be the poster child for insecticide resistance," Peterson says. "It's a remarkably
tough insect. Pear psylla has never gone more than 10 years without gaining resistance to any insecticide we throw at it. The heavy, two-ton club is not going to work."
Research indicates the most effective method for controlling pear psylla is through natural predators such as ladybugs and lacewings. With healthy populations of predators, other problem insects such as mites and leafrollers also are kept under control. As spray applications of Guthion are reduced or eliminated, beneficial insect populations increase, Peterson says.
The dilemma pear growers' face when reducing Guthion applications is codling moth populations thrive. Technology being tested for the first time on a large scale in the Yakima Valley could be the solution to the codling moth problem. If successful, pear growers would have a reliable weapon against codling moth and at the same time meet Food Quality Protection Act requirements by greatly reducing the use of organophosphates. In turn, beneficial insect populations would increase to better combat pear psylla.
Conventional orchard management uses codling moth traps placed around an orchard to determine how high the insect's population is at a given time and whether a spray application is necessary. With a more aggressive IPM strategy, according to Peterson, codling moth trap density jumps from one trap per 10 acres to one trap per 2 to 2.5 acres. Higher trap ratio gives more precise insect population data.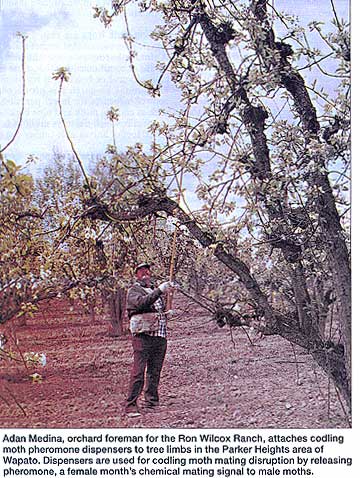 Codling moth traps are baited with a female pheromone that attract males. Animal pheromones are chemical means of communication that cause a physiological or behavioral reaction. Pheromone research has produced control measures for insect parasites such as codling moth and pine bark beetle, which destroys millions of board feet of harvestable timber each year.
The pheromone technology used to control codling moth is mating disruption. Pheromone dispensers are placed in pear trees at the beginning of mating season. The dispensers are thin tics that resemble the tie used on plastic garbage bags. They have a tube filled with pheromone and are twisted around a tree limb. The chemical attractant stimulates male moths and they seek the source of the pheromone. By saturating an orchard with codling moth pheromone - up to 400 dispensers per acre - research indicates the male moth spends all its energy searching for a female and never mates.
"The male flies all over and doesn't know where the heck the female is," says orchardist Jim Doornink. "He doesn't have a very big gas tank, and if we can get him flying in all different directions, maybe we can get him to run out of gas. We're not sure whether his sensory system is overloaded or he just has 400 different trails to follow. Either way, it explains what's going on."
Doornink grows orchard fruit for Doornink Fruit Ranch in the Parker Heights section of Wapato. Although he has a total of 110 acres in production, including apples, cherries, apricots and peaches, only seven acres are dedicated to pears. Doornink primarily grows Bartlett pears, which are canned by Snokist Growers in the Yakima Valley. This is Doornink's second year in the Pear IPM Project and he embraces the philosophy of ecologically sound agriculture.
"IPM tries to manage without upsetting the balance of beneficial species," he says. "We're becoming smarter about how we control pests and this program is trying to accelerate these kinds of techniques."
As he becomes more knowledgeable in his own use of IPM, Doornink says he's careful about timing his spray applications so they don't affect the life cycle of beneficial insects, adding that his primary focus for IPM is timing of spray applications and types of chemicals used.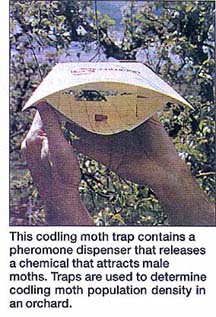 "As we go gentler and softer in our control program, we open the door to new exotic pests," Doornink warns. "Every once in a while they pop up around here and some of them are really 'bad actors,' like the Chinese wood beetle. It's hard to control something you don't have practice controlling but it's a risk we're willing to take."
Peterson agrees IPM is not the solution to every problem pear growers' face, and says growers will never escape chemical spraying completely. By implementing IPM, however, some growers have reduced their use of organophosphates by as much as 80 %.
"One thing growers need to recognize as we look to the future is that it's not going to get cheaper or less complicated," Peterson says. "But growers can save money on pear psylla control throughout the season by changing tactics for codling moth. It makes terrific economic sense, even if they save only 10 % on their pear psylla control spray bill. It's an expensive insect to control and a huge part of a grower's budget."
One pear grower who's well aware of the economic feasibility of IPM is Charlie de La Chapelle, owner of 7C's Orchard in Outlook. He's been practicing IPM since 1991.
"We're worried at that time about worker safety and insect resistance to spraying," he says. "There was enough of a problem that I wanted to try it."
The 14-day worker re-entry restriction—a regulatory safety measure to minimize the human health risk of re-entering an orchard sprayed with an organophosphate prompted de La Chapelle to seek alternatives to interrupting his farming cycle during growing season. Not only were his workers restricted from returning to orchards after spraying, de La Chapelle says conventional spray tactics were not controlling pear psylla.
"We were making six applications and we weren't controlling them (parasites)." he says. "Now they're under control and that's great."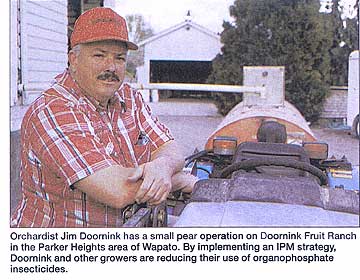 De La Chapelle admits his spray costs have increased through the use of parasite-specific chemicals and notes the appearance of grape mealy bug in the Yakima Valley has created a new challenge for IPM.
Some good news, however, is recent developments in codling moth mating disruption technology has produced new pheromone dispensers that last longer and are less expensive than previous models.
The flat topography of 7 C's large, uniform orchards is similar to that of many smaller orchards throughout the Lower Yakima Valley and is ideal for codling moth mating disruption because of evenly dispersed pheromone.
With his sizable operation—100 acres of pear orchards in production—de La Chapelle has witnessed the success of IPM on a large scale, putting him in the position to make a solid argument in favor of industry-wide acceptance of IPM technology.
According to de La Chapelle, if growers with contiguous orchards practice IPM together, their chances of controlling pear psylla and codling moth are much greater than if one grower continues to practice conventional pest management.
By adopting an IPM strategy, pear growers can expect positive results to follow, he says. "I'm convinced this is the future - and it works."