DIAMOND WALNUT NEWSLETTER, January, 2002
The New IPM Implementation Projects Initiated in California Walnut Orchards by Steve Wulfert and Pat Weddle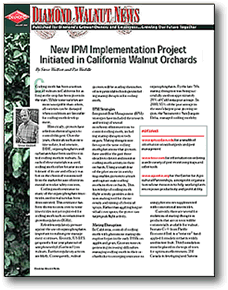 Codling moth has been a serious pest of walnuts in California for as long as the crop has been grown in the state. While some varieties are more susceptible than others, all varieties can be damaged when conditions are favorable for codling moth development.
Historically, growers have relied on chemical sprays to control this pest. Over the years, chemicals such as nicotine sulfate, lead arsenate, DDT, organophosphates and carbamates have been used to control codling moth in walnuts. As each of these materials was used, codling moth either became more tolerant of its use and efficacy was lost or the chemical was removed from the market because of environmental or worker safety concerns.
Codling moth resistance to many of the organophosphate insecticides used in walnuts has been demonstrated. This resistance has been shown to cross over to some insecticides not yet registered for codling moth such as certain insect growth regulators (IGRs).
Relentless regulatory pressure against the use of organophosphates important to walnut pest management continues. Recently, US-EPA proposed a four-year phaseout of azinphosmethyl (Guthion®) in walnuts. Further regulatory actions are likely. Consequently, walnut growers will be availing themselves of new pesticidal technologies including mating disruption for codling moth.

IPM Strategies
Integrated Pest Management (IPM) strategies have included the research and testing of several nonchemical interventions to control codling moth, including mating disruption techniques. Mating disruption relies upon the same codling moth pheromone that growers have used for the past three decades to detect and monitor codling moth activity in their orchards. Using a small dose of the pheromone in a sticky trap enables growers to attract and capture male codling moths in their orchards. This knowledge of codling moth flight activity provides a decision- making tool for the necessity and timing of chemical sprays. Rather than applying long-residual cover sprays, the grower can target peak flight activity.
Mating Disruption
In California, control of codling moth with pheromone mating disruption began in the early 1990s on apples and pears. Growers were experiencing increasing difficulties managing codling moth in their orchards due to emerging resistance to organophosphates. By the late 1900s mating disruption was being successfully used on approximately 20% of California pear acreage. In 2000, 95% of the pear acreage in the state's largest pear-growing region, the Sacramento' San Joaquin Delta, managed codling moth by using pheromones supplemented with conventional insecticides.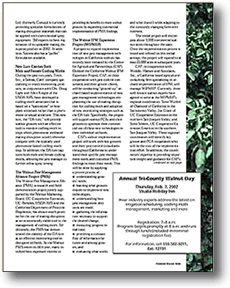 Currently there are several formulations of mating disruption products that are or soon will be commercially available for walnut growers. Isomate C+®, from Pacific Biocontrol Ltd. is a twist tie hand applied formulation that is widely used in tree fruit. This formulation must be placed in the tops of trees for optimum effectiveness. 3M Canada is developing and Suterra Ltd. (formerly Consep) is currently providing sprayable formulations of mating disruption materials that can be applied with conventional spray equipment. 3M expects to have registration of its sprayable mating disruption product in 2002. In addition, Suterra also has a formulation available.
New Lure Catches Both Male and Female Codling Moths During the past two years, Trece, Inc., a Salinas, Calif. company specializing in insect monitoring products, in conjunction with Drs. Doug Light and Allen Knight of the USDA-ARS, have developed a codling moth attractant that is based on a kairomone or host plant attractant rather than a pheromone or sexual attractant. This new lure, the DA lure, will provide walnut growers with an effective tool to monitor codling moth in traps where pheromone-mediated mating disruption would otherwise compete with the typically used pheromone-baited codling moth trap. In addition, the DA lure captures both male and female codling moths, allowing the pest manager to further refine spray timing.
The Walnut Pest Management Alliance Project (PMA)
The Walnut Pest Management Alliance (PMA), a research and field demonstration project jointly supported by the Walnut Marketing Board, UC Cooperative Extension, UC-Berkeley, USDA-ARS and the California Department of Pesticide Regulation, has shown much promise for the use of mating disruption as an economically viable tool in the management of codling moth. Additionally, the PMA has demonstrated the viability of the DA lure as an effective monitoring tool in disrupted orchards. As the Walnut PMA enters its fifth year, many involved have expressed interest in providing its benefits to more walnut growers by expanding commercial implementation of PMA findings.
HOT LINKS
www.ipm.ucdavis.edu for a wealth of information on walnut pests and pest management
www.trece.com for information on ordering a wide variety of pest-monitoring traps and other tools
www.agcenter.org for the Center for Agricultural Partnerships, a nonprofit organization whose mission is to help working farmers improve productivity and profitability

The Walnut IPM Expansion Project (WIPMEP)
A project to expand implementation of new pest management technologies in California walnuts has recently been initiated by the Center for Agricultural Partnerships (CAP). Dubbed the California Walnut IPM Expansion Project, CAP, in close cooperation with pest control consultants and their grower-clients, will be conducting ground-up orchard- based implementation of new pest management technologies emphasizing the use of mating disruption for codling moth and adoption of new monitoring strategies such as the DA lure. Specifically, the project will support walnut PCAs and their growers to optimize their commercial use of these new technologies in their individual orchards.
CAP's walnut implementation project will work with key growers and their pest control consultants throughout California to understand their specific pest management needs and customize PMA findings to meet these needs. This will be done by applying a proven process of:
understanding growers needs;

learning what growers require to implement new technologies;

understanding how pest management decisions are made;
gathering the information necessary to support the desired change;
measuring progress in real time;
providing a constant flow of information between and among growers; and

evaluating what works and what doesn't while adapting to the constantly changing farm environment.
The initial project will encompass about 1,000 commercial walnut acres throughout the state. Once the implementation process is tested and refined on this initial acreage, the project will expand to at least 25,000 acres in subsequent years.
CAP, in cooperation with Weddle, Hansen and Associates, Inc., a California-based agricultural consulting firm specializing in orchard implementation of IPM, will manage WIPMEP. Currently, three well-known walnut experts have agreed to serve as the WIPMEP's regional coordinators: Steve Wulfert of Diamond of California in the Sacramento Valley; Joe Grant of UC Cooperative Extension in the northern San Joaquin Valley; and Steve Sibbett, UC Cooperative Extension Emeritus in the southern San Joaquin Valley. These regional coordinators will identify key grower and PCA cooperators who will be the core of the implementation effort. In addition, the coordinators expertise is providing important insight and guidance for CAP's management of WIPMEP.
Communication
WIPMEP findings and knowledge will be shared with cooperators through frequent personal communication and e-mail among project participants. Small regional grower/ PCA meetings will be important to broader project communication and expansion. Finally, the walnut industry will learn of the project's activities through industry newsletters and field days.
More About CAP
The Center for Agricultural Partnerships (www.agcenter.org) is a 501(c)(3) nonprofit organization whose mission is to help working farmers improve the productivity and profitability of their farms through the use of environmentally and economically sound growing practices that reduce pesticide risks, improve water quality, create healthier ecosystems and improve the well-being of the farm community.
About the authors:
Wulfert is Diamond's field representative for the Northern Sacramento Valley. Weddle is founder and president of Weddle, Hansen and Associates, Inc., an agricultural consulting firm established in 1975 to develop and implement strategies, tactics and policies that emphasize biologically intensive IPM. In 1999, the firm received the California Department of Pesticide Regulation's IPM Innovator award. Weddle holds bachelor's and master's degrees in entomology from UC-Berkeley.
For more information please contact Patrick Weddle at pweddle@agcenter.org