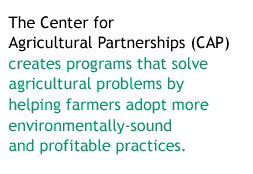 Putting The Farm Bill To Work


Useful information on how specialty crop growers, organic producers and minority farmers can benefit from participation in the Environmental Quality Incentives Program (EQIP) and other conservation programs authorized Farm Bill.

CAPstone Report:
Five Case Studies
These illustrate CAP's approach and the results achieved.

Working From The Ground Up


A blueprint for creating programs and organizing projects that create measurable results for farmers and the environment.
EXPANDED TO INCLUDE -
Working In The Chesapeake Bay

Manual de Monitoreo


A pest management guide for apples, cherries, and pears in WA state - in Spanish and English formats.